Hey, If you are looking for some of the best samples of Acknowledgement For Computer projects? If YES, then here you will get 7+ acknowledgement samples for your computer project.
After completing your school or college computer project, it is a good practice to write an acknowledgment letter to appreciate and acknowledge the support of those who helped you complete your project. Here you can also mention your family members or friends, if they have helped you to complete this project.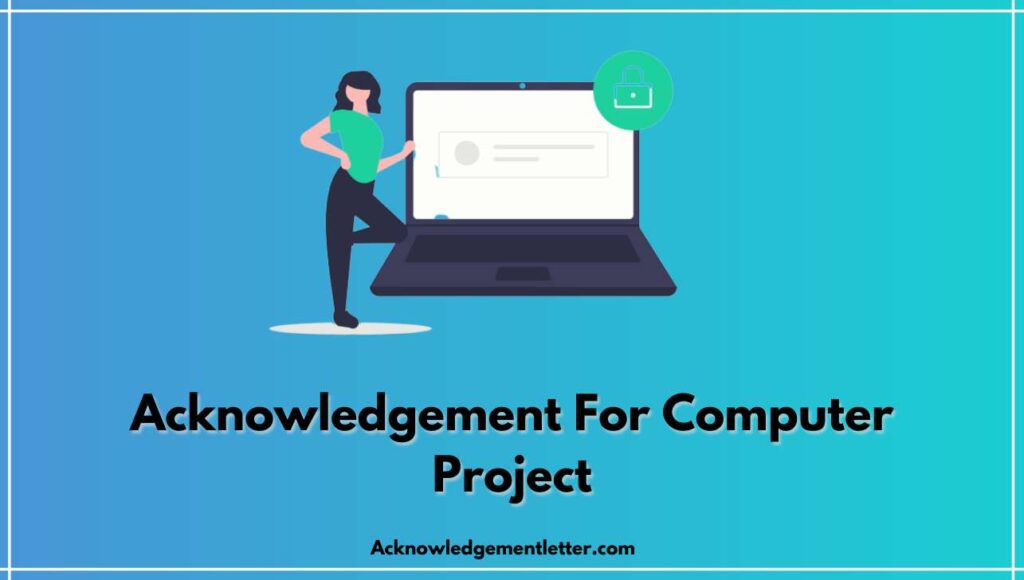 These acknowledgments are for a typical school project. So you can keep the acknowledgment in just a few sentences.
You can create your acknowledgments for your computer project by copying the samples given below. But if you use these samples as a guide and create your own draft, it might be better for this project.
Computer Project Acknowledgement Sample
Firstly, I would like to thank our computer teacher (Name of the computer teacher), because he always supported and guided us while doing this project. He very well cleared all the doubts I had regarding this project. Also, I would like to especially thank my parents and friends who helped me a lot to complete this project within the limited time.
The journey of making this project has been beautiful, as well as knowledgeable for me and I have learned a lot from it.
Once again, thanks to everyone who was involved with this project from beginning to end.
---
Acknowledgement For Computer Project
I would like to sincerely thank my teacher _____ (Teacher Name) for providing all the necessary resources and facilities in the school, without those resources this project would not have been completed.
Also, my parent's & friend's support played a big role for me. I thank them all and wish that they will keep supporting me like this.
I did this project not only to get marks but also to improve my technical knowledge. During this project, I acquired many valuable skills, and I hope that these will help me in my future career.
---
Acknowledgement For Computer Project Class 10
I would like to express my special thanks to my computer teacher ______ (Computer Teacher Name), who give me the golden opportunity to do this wonderful project on the topic _________ (Mention Your Topic). I am also very grateful to my other computer teachers and school teachers for helping me with the necessary equipment and valuable guidance.
Finally, I would like to thank my parents and close friends, who were always with me from imagination to the implementation of this project. Without their cooperation, this project would not have been completed. Only because of all of you, I was able to make my project successful and make it a good enjoyable experience.
---
Acknowledgement For Computer Project Class 9 & 12
I am really grateful for the opportunity of this project and sincerely thank my computer teacher _______ (Name of the Teacher). He will remain one of my favorite teachers for contributing his valuable time and effort to help me with this project. Their suggestions and feedback helped me a lot to improve the project quality from the implementation.
Secondly, I would like to thank my parents, family member and friends who have always been there whenever needed.
Lastly, I thank them all from my heart and wish that they will continue to support me like this.
---
Sample Acknowledgement For Computer Project File
On this great occasion of the successful completion of my computer project, I would like to thank my teacher Mr./Mrs. ___________(Teacher Name), for his/her valuable coordination and support for the remarkable results of my project. Most of the credit goes to him/her for the outcome of this project.
Also, I would like to take this opportunity to thank my family members & supporters, without them it could not have been done effectively in such a short period of time. I cannot forget their love & support.
---
Acknowledgment For Computer Project
I am glad to present my computer project. This project was given by our respected computer teacher _______(Name of the Teacher). I am really thankful to him /her for giving us such a wonderful and interesting topic for our project.
I would also like to thank my other teachers from my heart. Without their suggestions and feedback, the project would not have achieved such a good outcome.
I hope everyone will like my project and appreciate my hard work.
---
Acknowledgement Sample For Computer Project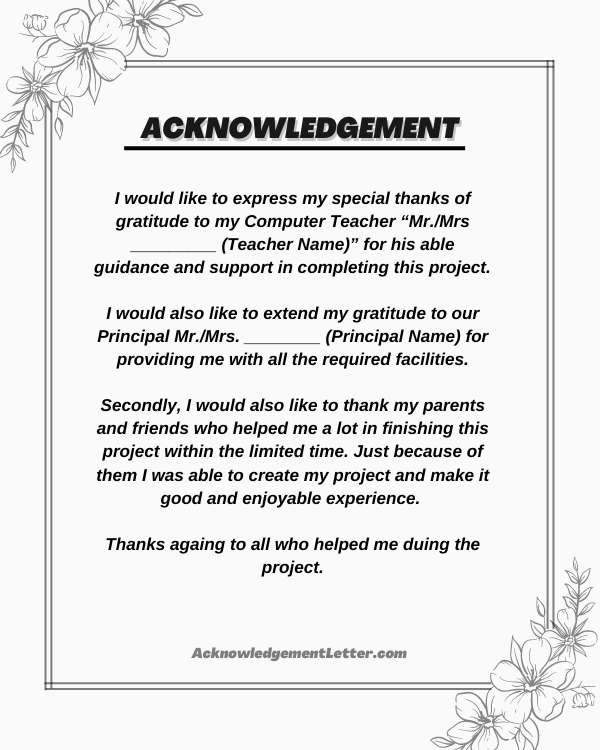 ---
Here we have a video to create the best acknowledgment page for your computer project. You can just simply watch & follow those steps to improve your acknowledgment quality easily.